Cutting-edge technological developments
IN2P3 develops innovative technical solutions in its laboratories to achieve its fundamental research objectives. One of the Institute's strong points is its technical staff who covers a wide range of professions and skills to develop innovative instruments.
Research instruments are developed in the Institute's laboratories to respond to very high-performance demands in terms of granularity, sensitivity, dynamics, resolution, speed, radiation tolerance, integration and transparency to ionising particles. This development of instrumentation involves a great many professions and skills within the technical departments. This is one of the Institute's particularly strong components.
Expert network
IN2P3 encourages and fosters the emergence of expert networks working within the main families of detectors and transverse techniques. These networks are federated on the national level and are key tools for exchanges. They are vectors of cohesion and efficiency and help identify and support emerging technologies and local skills. They provide targeted specialised training, promote the sharing of best practices and the identification and management of shared engineering tools.
TechNews
The networks and their latest news are presented on IN2P3's Tech News website which showcases the Institute's laboratories' technical expertise: https://tech-news.in2p3.fr/
Detection and instrumentation

: semiconductors, gas detectors, photodetection, cryogenic detectors, radiation detection, beam diagnosis.

Electronics

: acquisitions, board design, ASIC, FPGA.

Mechanical engineering

: mecha­nical computing, 3D-metal additive manufacturing, mechanical R&D.

Management

: project management, quality control, system engineering, TEAMLAB.

Other fields

: computer science & computing, instrumental biology, Becquerel.
Research and Technology structure
At IN2P3, technological development projects are organised around five scientific themes just like the Institute's scientific projects: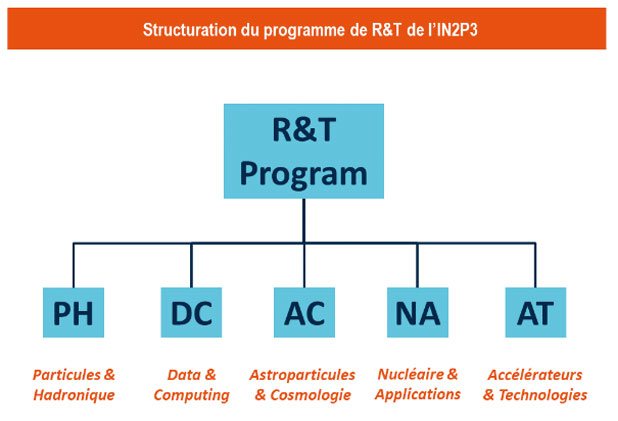 The Deputy Technical Director (DAT) leads the R&T programme and work on each theme is steered by a Deputy Scientific Director (DAS).
R&T applications are submitted by physicists and engineers every year until autumn. The thematic managers arbitrate on these applications in October and the whole programme is updated and then approved by the Institute's Management Board.