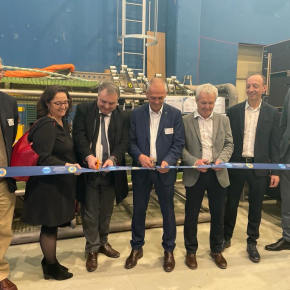 The ceremony was held in the CPPM building, where the components of the underwater platform are assembled and tested prior to their immersion. Image : CPPM
Antoine Petit launches the Laboratoire sous-marin Provence Méditerranée (LSPM)
Institute news Neutrino physics
This unique underwater scientific facility houses a neutrino telescope and a collection of instruments dedicated to the study of the abyssal environment at a depth of 2450 m in the Mediterranean sea. It was officially launched at the CPPM by the CNRS, Aix-Marseille University and Ifremer, which are co-directors of the LSPM.
Antoine Petit, CEO of the French National Centre for Scientific Research (CNRS), Eric Berton, President of Aix-Marseille University (AMU) and Bruno Andral, Deputy Director of the Ifremer Méditerranean centre, were present alongside Reynald Pain, Director of the Institut national de physique nucléaire et de physique des particules (IN2P3), Aurélie Philippe, regional delegate of the CNRS Provence and Corsica, and Cristinel Diaconu, director of the Centre de physique des particules de Marseille (CPPM), to cut the inaugural ribbon of the LSPM with its director Paschal Coyle on 24 February. The ceremony took place at the CPPM, the LSPM's host laboratory, in front of the infrastructure elements being prepared for the next deployment operation at a depth of 2450 m off Toulon.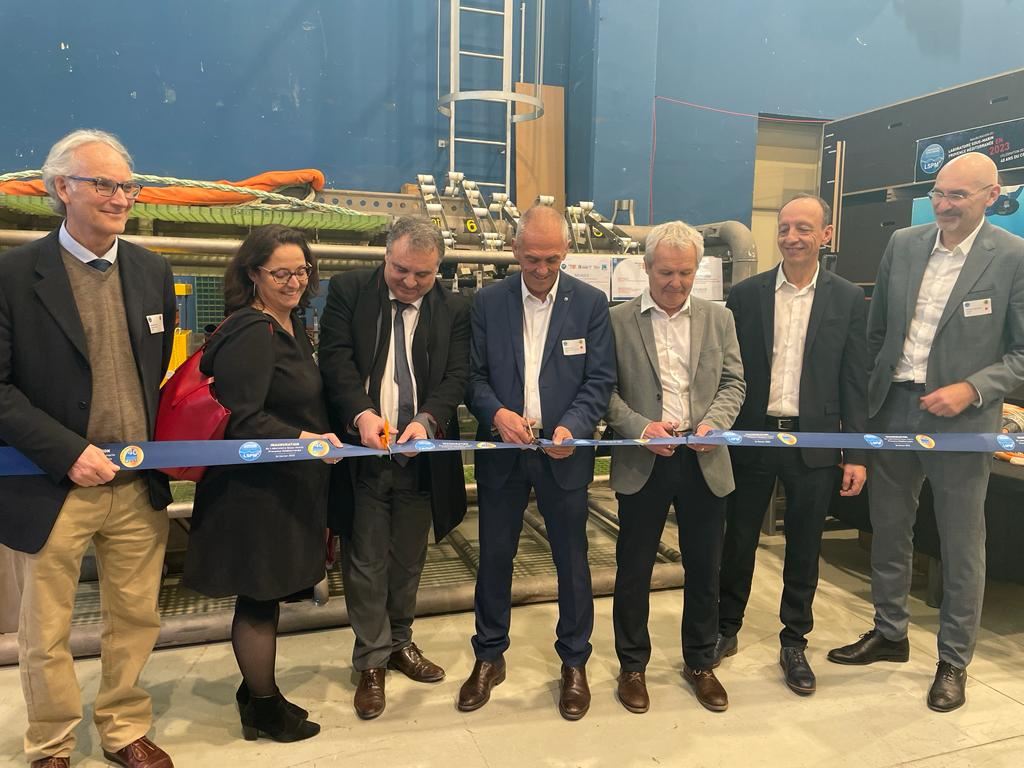 High voltage and high data flow in the abyss
The main elements of the scientific platform are already operational: a 40 km electro-optical cable between the site and the control centre at La Seyne-sur-Mer, providing power and broadband connection to the scientific instruments in the abyss, two connection nodes to link the cable to all the instruments, sixteen neutrino detection lines, and an instrumented line for the continuous observation of underwater physical conditions and biodiversity. Ultimately, the LSPM will include two electro-optical cables, four connection nodes, one hundred and fifteen neutrino detection lines, two environmental study lines, an exploration rover, a sismometer, a gamma spectrometer and a biocamera.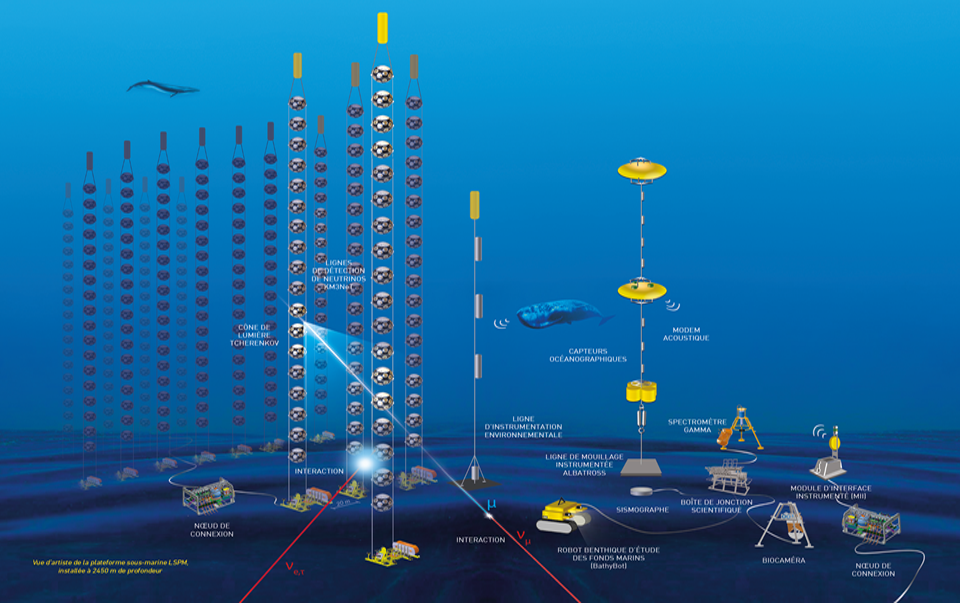 A facility for studying neutrinos and the deep marine environment
The KM3NeT neutrino telescope is the main user of the LSPM. With its 115 vertical optical monitoring lines rising nearly 200 m above the seabed and 20 m apart, it will track the tiny halos resulting from the manifestation of neutrinos in a vast volume of nearly 6 billion litres of water. Its main aim will be to study these particles in detail and to measure their fundamental parameters precisely. Named ORCA, this subset of the KM3NeT telescope will operate in tandem with its big brother ARCA, which is being installed off the coast of Sicily and is dedicated to neutrino astrophysics.
With the environmental part of the LSPM, scientists will be able to observe numerous parameters in this unique location over the long term, such as the dynamics of the water column, salinity and oxygen concentration, exchanges between continents and oceans, the effects of global warming, the evolution of marine fauna, and seismicity.